We sat down with Managing Director of Astute Media, Jeremy Bailey to talk about the history of Astute Media, some of the highs and what is next for us going forward.
Take us back to the beginning, how did Astute Media originally start?
Astute Media originally started way back in the summer of 1990 as JM Bailey Communications. We started in the teeth of a recession, quite literally from a garden shed, with no technology other than an Amstrad phone/fax/answer machine. These were the days when Macs were starting to make an impact on the graphics world, PCs were just introducing windows, and the worldwide web was yet to come into existence. In the world of marketing communications, television ruled supreme, supported by press, radio and direct mail. A very different world from today.
We started with no clients, just a fundamental understanding of how branding and marketing communications work and a passion for solving marketing problems. At the time, the retail motor trade, in particular, were spending a lot of money, very badly. Many retailers used the services of the local newspapers to create their ads because the service was free. But there was no strategy, no concept of how to build a brand, with no real understanding about communication and how messages come off the page. So, we started to educate, encouraging investment in marketing, rather than just spending a budget, and demonstrating how budgets can work harder. This led to our first ad, for the Vauxhall Calibra in the 1990 Motor Show edition of the Wolverhampton Express and Star. And, so we started.
In the next 4 years, we built our reputation, our client base, which included Vauxhall Motors, and the team delivered solutions through TV, Radio, Press and DM.
So, with the core concept of JM Bailey (soon to be Astute Media) established, and clients driving the growth of the business, what happened next?
As we grew both in client work and staff, it became evident that, however great the advantages of a shed, low overheads being the main one, we needed proper offices, if we were to continue to grow. So, in 1994 we moved to Homer Road in the centre of Solihull. Originally, we moved in for 2 years and stayed for 25, as the Solihull we know today grew around us.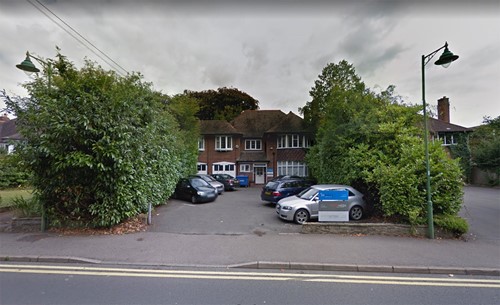 Initially, our fortunes were mixed, with several of our major clients either adversely affected by take-overs or internal restructures. So, we effectively had to build the business again.
As the 90s came to a close, we recognised some of the growing trends on the horizon and began implementing changes to the business. This involved thinking about the future of marketing as an industry, and how our core concept of branding would need to adapt. We saw the introduction of the internet and the volume of websites grow, giving traction to the increasing number of clients starting to adopt the use of digital marketing channels. So, to take advantage of this new market opportunity, and to develop the skills, to be able to provide balanced marketing advice to our clients, we formed Astute Media.
Astute Media was born in 2000. Initially, the focus was on building websites.
 In those days' websites were the domain of the techies, with lots of limitations and rules on how everything had to work. It made sense therefore to run Astute Media as a separate brand, with JM Bailey continuing to focus on traditional channels. Fortunately, the world is very different today and the limiting factor for websites and digital channels is not technical, but imagination. We like to say that these days if you can imagine it, there will be a way to create it. It makes it an exciting world with the pendulum swinging back to the marketeer.
Since 2000 we have built lots of websites, from simple 'brochure' sites up to the multi-national presence for a global brand. We have also broadened the digital offering to cover all aspects of digital marketing.
In 2005 we saw the introduction of 0845 telephone numbers and the ability to track marketing which generated a telephone response. We recognised early how important this development could be, in evaluating the effectiveness of marketing and helping to optimise budgets, so we set about developing a solution. By early 2007 Astute Metrics, a sister brand to Astute Media was born, and we were measuring and reporting on the activities of Volkswagen's van centre network. Today, Astute Metrics has multiple clients, still including Volkswagen and has been extended to report on paid search, web metrics and another channel for which we were early adopters, Google my Business.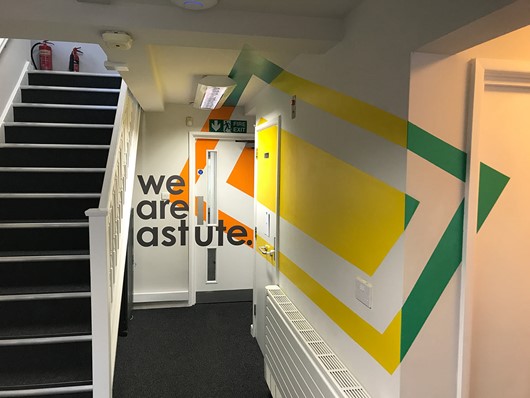 With all that in mind, what is next for Astute Media?
In 2019, due to developments in the local area, we had to move from our longstanding home in Homer Road, which while sad, gave us a new opportunity to move forward. So, we relocated to fantastic offices on New Road in Solihull. Marking a new milestone in the journey for Astute Media going forward. It also presented the opportunity to rebrand ourselves and offer a full range of services under the Astute Media brand. It is heartening to see that although the channels through which we communicate with our audiences may have changed, and become dominated by digital and social media, the core fundamentals of our business are the same as they were in 1990 – branding, communications and an uncliched version of passion.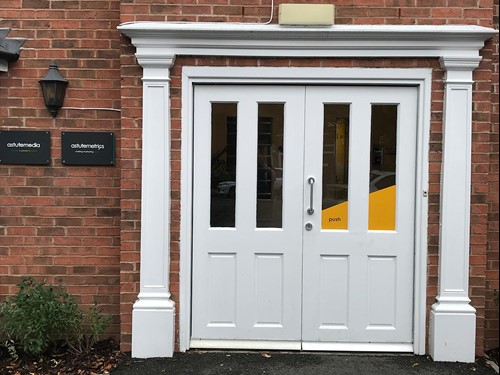 In 2020 we expanded our services to include training. Now there is logic to this. The world is full of training opportunities, from free to expensive, and from thinly disguised sales pitches to academic seminars. And we have all sat through webinars where we have felt we have had an hour or so of our life wasted. So, we have set out with the purpose of empowering people to either implement marketing activities themselves or to be better able to manage internal teams or agencies. By limiting participation to a maximum of 6 and by covering a subject in half a day, we can be very hands-on (even through Zoom) and ensure everyone goes away able to achieve. If we can spread the understanding of branding, how communication really works and the enthusiasm we have for marketing, it's a direction that should work for everyone. Watch this space.
What has been the biggest achievement of Astute Media over the last 30 years?
For us, it's our ability to survive and thrive, despite the numerous challenges we have had to face over the last three decades, and the continuing challenges within the current climate. We have been able to successfully navigate recessions, industry changes, new technological issues and more recently the pandemic. Yet we continue to attract new clients while maintaining our existing relationships with clients, some of whom have been with us for over 14 years.  It is testament to the continuing development of our core concepts and belief, as well as the amazing teams we have had, both in the past and currently who are always pushing us forward as a business. That is an amazing achievement that has kept us in business for over 30 years and continues to do so.
What has been your favourite moments over the last 30 years?
There have been so many!
In the early days, we launched a new Used car dealership and helped take it to local market domination in 18 months, despite the industry collaborating to bring us down. It was achieved with a well-defined brand, created from scratch, some great advertising and a client-agency relationship that enabled us to resist change and build a strong brand.
Another magic moment was when we were finally appointed by a major motor manufacturer to run the local PPC campaigns after a 2-month trial that went on for 14 months, that delivered a 30% cost reduction and 1000% improvement in efficiency, against one of the UK and world's largest media buying companies.
There is also the perfect pitch. Three come to mind. One where we told not to bother because they were happy with the incumbent. They reconsidered and appointed us. One for a £1m account, where we were a makeweight against 7 other agencies, with a clear favourite. They did not go to the planned shoot-out but appointed us following a final presentation. The third again against a packed, but level playing field, we won through the strength of our creative ideas.
What are your final thoughts?
I just wanted to thank all our clients, both new and old, for their support over the years and their continuing support. I would also like to thank all our colleagues for helping us to get to our 30th year and for laying the foundations, for many more great years ahead. We really are excited about the path that we are developing for Astute Media, and we cannot wait to welcome you back safely into our new home and share with you our vision going forward.
Stay safe everyone!