The Midlands Air Ambulance Charity is a client that we have worked with for over 3 years on various projects including the extremely popular Bike4life campaign.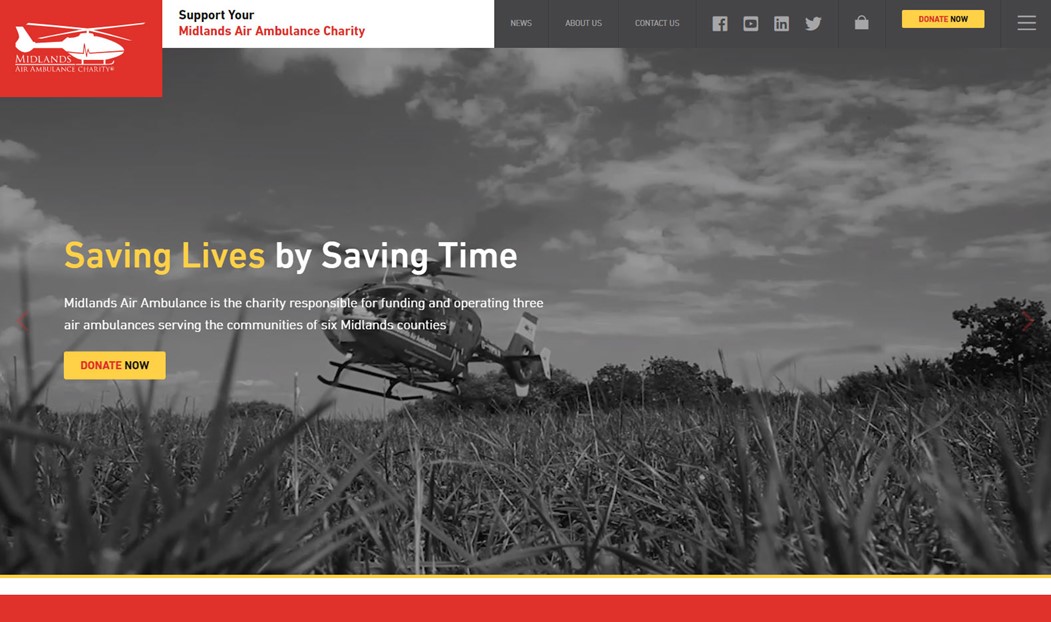 Working with our client we reviewed the existing site and identified the key elements that would need to be core to the new website. This meant focusing on engagement, education and most importantly fundraising. Using these three key elements, we have designed a site that is more focused on achieving those goals for our clients, audiences and their supporters.
The new website is slicker and easier to navigate while still carrying a familiarity for both our client their supporters.
You will be able to find the latest information, news and events much more easily and clearly. Whether you are browsing on mobile, tablet or desktop, the new site will deliver a consistent experience for all. This ensures that visitors can be kept up to date on all the fantastic work carried out by the charity and its volunteers and supporters.
We have also improved and further developed the functionalities of the site to ensure that visitors can donate easier, purchase merchandise with less hassle and help support the charity with ease.
The new website will enhance and future proof the online presence of the Midlands Air Ambulance Charity going forward.
James Ebdon-Muir, Digital Account Director at Astute Media said:
"MAAC's previous website had grown organically and was a bit of a monster! The content was everywhere with over 8,000 pages to rationalise.
Working with the team at MAAC we took the time to plan the site properly by going back to basics and understanding what the site was trying to do for the Charity.
We are super chuffed with the results and are sure it will help the charity to continue their work over the years to come."
You can keep up to date with the latest news and fundraising events held by the Midlands Air Ambulance Charity on their new site at  https://www.midlandsairambulance.com/
The website is just the first step in helping drive forward greater awareness of the amazing and important work undertaken by the Midlands Air Ambulance and its supporters. You can find some of are other work on the Astute Media portfolio page.