Facebook launches new audio tools to compete with ClubHouse:
Facebook has officially begun rolling out tools to allow users to make the most of audio-only social media channels made popular by Clubhouse. Over the next few weeks, public figures and broadcasters will be able to access Facebook's new suite of tools with a general rollout expected to be completed by the end of this summer.
Facebook is utilising its existing room features to allow users to deliver audio-only streams and content. Connections of the broadcaster can join the room and followers will be notified through a highlighted tag at the top of their News Feeds and within Facebook chat apps like Messenger. Users will be able to make the rooms private or public and creators will have the opportunity to turn these into monetised products such as charging for a single purchase of live audio room access or a subscription to the creators' content. Facebook is providing users the ability to utilise tools such as Groups to create audio-only rooms and help drive interest in the live broadcast by pushing it out to other groups of similar interests.
To compete with platforms like Clubhouse and generate wider appeal, Facebook is also adding additional features to support its competitiveness in the rapidly growing audio-only social media space. Creators will have options to save broadcasts and monetise them as podcasts after the broadcast has finished and will also be launching a feature called 'Soundbites' enabling the creation of short-form audio clips to use as content.
If you have ever wanted to create compelling audio content and visuals for your social media channels, then the 'Soundbites' tool will be a great addition to your content creation tools. As highlighted in the video above you will be able to record, edit and customise short-form audio which can then be posted to your business pages and through Facebook stories as well.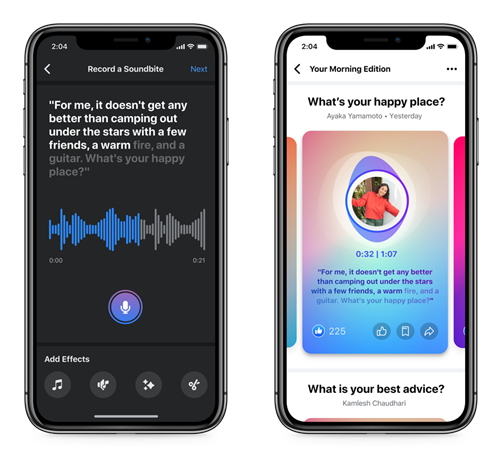 Now you may be asking why does this matters to you? Think of it this way, if you are a business providing a service like ourselves, we can create live audio-only streams, which can be monetised. So, if we did a seminar on say the latest trends in 2021, our audience could be part of the discussion and afterwards we could then publish the recording as a chargeable podcast that people could access after the session record.
Now, this is a loose example but the point we are making is that this could potential be an additional revenue stream into your business, especially if you are actively creating and engaging with audiences on social media channels. We highly recommend keeping an eye on the rise of audio-only-based social media content and revenue streams, as more and more social media platforms are developing and releasing their audio-only products over the course of the next year to compete with Clubhouse as well as each other.
Football is driving this month's social conversations:
Football has been at the heart of social conversations this month on two fronts. The first is that many football stars and clubs are organising regular social media blackouts to encourage social media platforms to do more to tackle racism on their platforms. There have been several high-profile players who have experienced racial abuse recently including Tyrone Mings, Reece James, Jamal Lowe, Ben Cabango, Yan Dhanda, and more.
To draw more attention to the issue, many players and clubs are now taking a stance through blackout campaigns where they will cancel posting any updates on the platforms. Swansea City FC has been driving the campaign forward after a number of their players were racially abused and Birmingham City and Rangers support the call to action by running weeklong social media boycotts.
It is an extremely important issue and the campaign actions seem to be working in keeping the conversation going on social media platforms on how best to tackle racism in sport, especially when directed at football players. There is increased pressure on platforms such as Facebook, Instagram and Twitter to come forward and talk to all parties involved on working towards solutions to the increasing problem.
Secondly, in the last few days, social media platforms have been on fire with people across the world footballing community voice their displeasure at the recent announcement of the European Super League, featuring the top 6 English clubs with 3 from Spain, 3 from Italy, and more to join up soon. Fans, pundits, managers, and players have all voiced their displeasure with governing bodies such as the FA, The Premier League, UEFA and FIFA all threatening to imposed sanctions such as banning the clubs from their respective competitions and even banning players from competing in international competitions such as the European Cup and the World cup.
The initial reactions have been somewhat negative and led to many heated discussions on social media, but the announcement of the ESL is still raw at the moment and there is still frustration at continuing racist activity directed at clubs and players. There is no doubt that these two discussions are likely to dominate the sports headlines on social media channels and trends for at least the next few months. It will certainly be interesting to see the actions taken by social platforms to tackle racism and how football clubs respond to both issues in the coming weeks.
Colin vs Cuthbert:
The battle of caterpillar cakes: If you have been viewing social media trends, you will realise that there is currently an epic battle on social media around caterpillar cakes. M &S are in process of pursuing rival supermarket chain Aldi over the likeness of its caterpillar cake.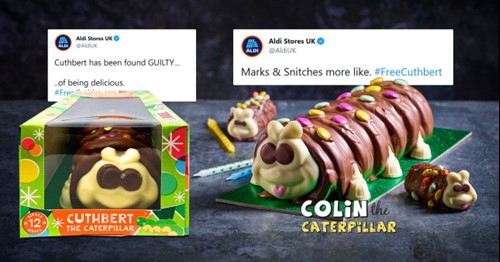 While the matter is serious in determining copyright infringements, we cannot help but love the way social media channels have helped diffuse the issue and create a talking point. Aldi's social media team is certainly driving the conversation utilizing the #FreeCuthbert hashtag. It is proved such a popular talking point that even other brands are getting in on the act including fashion brands like PrettyLittleThing and ASOS. Even rival supermarkets have been jumping on the band wage in on the act by also poking humor at the recent rise and fall of football's European Super League proposals. While the issue is a serious one, it is great to see a positive rivalry unfold on social media and seeing the positive effect it has on engagement with the side effect of raising funds for worthy causes. It also has other brands and digital marketeers getting involved, leading to a whole range of new memes and posts that not only increase positive engagement but give others an opportunity to take advantage of the ongoing trend.
We highly recommend that you head to Twitter and search for the #FreeCuthbert hashtag because, at the very least, it will put you in a positive mood, something we all need in these current times.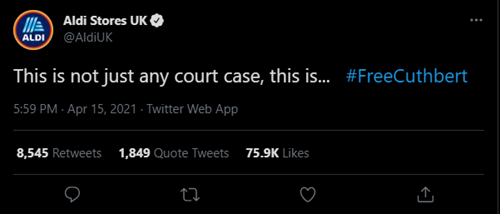 sources: 
https://www.bbc.co.uk/sport/football/56800351, https://www.socialmediatoday.com/news/facebook-announces-a-range-of-new-audio-tools-including-audio-rooms-new-s/598596/ , https://twitter.com/AldiUK