We have been keeping track of these changes, so you don't have to!
Top 10 apps downloaded in January 2021: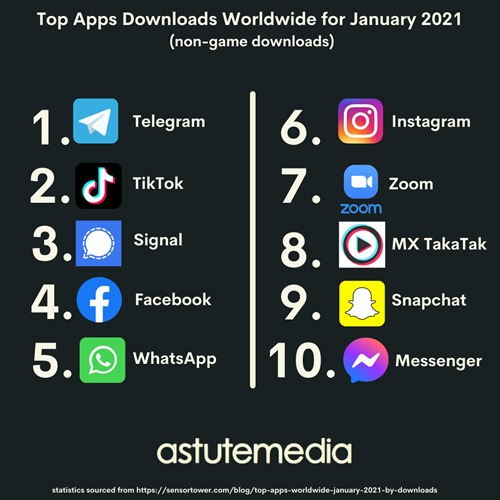 Sensor Tower has revealed the top 10 downloads for January 2021 that are non-game related (Global figures). While the usual suspects in terms of social media channels make up most of the top 10, surprisingly Telegram has overtaken TikTok which has been steadily growing throughout 2020.
For those not familiar with Telegram, it is a social messing app that focuses on both speed and security with your messages syncing with all your devices that the app is installed on. Telegram takes up very little space on a user's device thanks in part to the integration of cloud synchronicity. The attraction of Telegram is in part due to some of its features that include enhanced secure messaging and auto-deletion, along with the ability to create groups with up to 200,000 members - making it a useful platform for organising societal causes or in the case of the media, broadcasting to large amounts of people directly and efficiently.
If want you to give the platform a try for personal or professional use and see why it's growing in popularity, you can download the app below:
Source: https://sensortower.com/blog/top-apps-worldwide-january-2021-by-downloads
New TikTok Music licensing agreement with Universal music:
Music has been pivotal to the success of TikTok and its users. It's often the core driver of trending challenges and viral content on the platform. TikTok itself recognizes that music helps users identify with the content on the platform. It has also had a huge impact within the music industry in helping to drive sales. A recent example of this is the recent dog face viral post which contributed massively to Fleetwood Mac's 1977 Rumours album returning to the top 10 on the US Billboard charts.
Both Universal Music and TikTok recognise this growing trend and as a result, have signed a deal to make the entire Universal Music Publishing Group back catalogue available for users to include within their content. So, if you have ever wanted to create a TikTok post using Rihanna's Umbrella or Lady Gaga's Bad Romance, now you can. It will certainly help in offering you more options to spice up the fun side of your monthly social media content.
Source: https://www.socialmediatoday.com/news/tiktok-announces-new-licensing-arrangement-with-universal-music-group/594731/
Pinterest grows to 459 million users: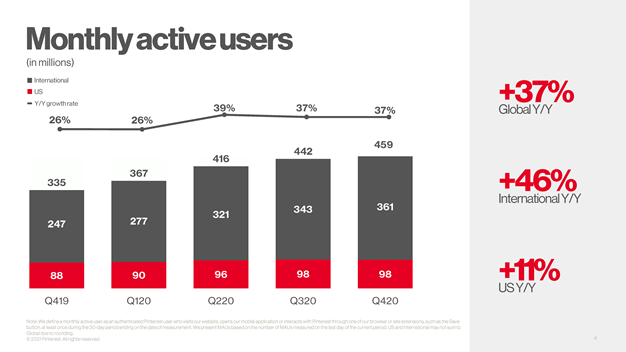 Visual social media channel Pinterest has announced that in Q4 2021 it added an additional 17 million users to its platform taking its active users total to 469 million. It represents a global increase of 37%.
The strong results Pinterest recorded over the course of 2020 are reminder of the platform's benefits as an e-commerce tool for the creative industries and highlights Pinterest commitment to businesses using the platform for eCommerce. 
Source: https://investor.pinterestinc.com/press-releases/press-releases-details/2021/Pinterest-Announces-Fourth-Quarter-and-Full-Year-2020-Results/default.aspx
Weetabix uses controversy to start a Twitter discussion and the replies are hilarious: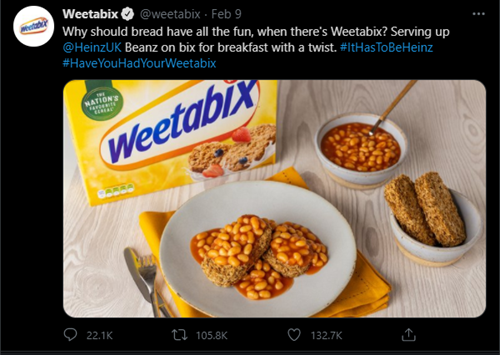 The popular cereal brand caused deliberate controversy by tweeting out different ways you could eat its product in new and diverse ways. The initial tweet began to go viral on Twitter with some hilarious responses as major brands and organisations all began to start joining in the conversation. Have a read through some of the responses and see what some of your favourite major brands had to say on the controversial tweet.
It's a perfect example of brands letting their hair down a bit on social media channels to create an engaging conversation for audiences and the brand to have some fun.
and finally…
An American judge has gone viral on social media after being unable to remove a kitten filter that had been set up on his zoom account. The short video was part of a virtual court held in the 394th Judicial District Court of Brewster.
Although this was a serious matter, you can't help but be cheered up by the video's comical nature. A reminder to make sure that you check your settings on zoom when conducting a public meeting online!